Asian Salad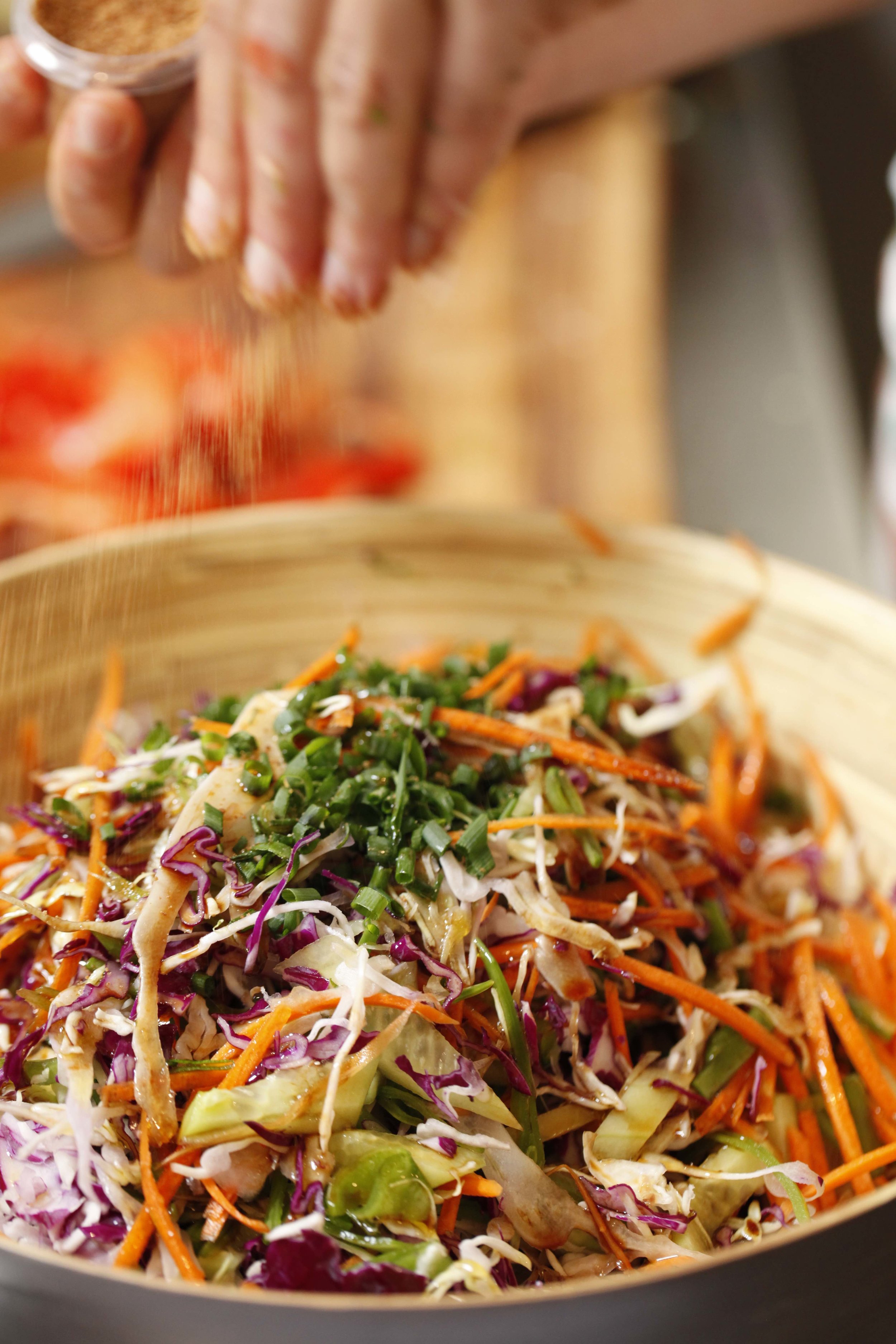 A cleansing, crunchy, little bit exciting accompaniment to any meal. Especially something grilled or fried. My friend and macrobiotic chef extraordinaire Edwina Blush, showed me how to make the fresh ginger-juice in the dressing, using her very handy trick explained below. Did you know daikon radish helps break down bad-fat deposits in the body and aids in the digestion of fried foods or fats in general? Did you know cabbage has anti-carcinogenic properties? How awesome is that right? Most importantly this salad is also seriously yummy.
Serves 6-8
Salad ingredients
1/4 red cabbage, sliced very thin, 2 packed cups
1/4 white cabbage, sliced thin, 2 packed cups
1 handful of snow peas, finely sliced diagonal
1 medium carrot, julienne
1 cucumber, julienne
1 small red capsicum, sliced thinly
1 small daikon or regular radish, julienne
2 handfuls mixed leaf lettuce, with Asian greens
2 spring onions, sliced very thin
1/2 bunch mint, torn
Salt
Dressing ingredients
1/4 cup sesame oil
1/4 cup fresh lemon juice
2 tbsp tamari
1 tbsp rice syrup
1 tbsp fresh ginger juice
Garnish
2 tbsp toasted crushed peanuts
ACTION!
Mix the sliced cabbage with a sprinkle of salt, massage and set aside for a few minutes, up to 1 hour, to marinate.
To make the ginger juice grate some ginger on a chopping board, pick the grated ginger up in your hand and squeeze the juice into a bowl. Dab any remaining ginger juice on your chopping board with the squeezed ginger in your hand and squeeze some more, like a sponge to wipe up any remaining precious drops. This is also great to do when you want a medicinal ginger tea. Thanks Edwina for this ginger juice tip.
Make the dressing and set aside.
Cut and julienne all the vegetables and mix well except for the mixed greens and fresh herbs, add those just before tossing the salad with the dressing.
Tip: Wonderful optional additions are mango and avocado! Try toasted sesame seeds or almonds instead of peanuts. Exchange the lemon for lime juice. By all means, use olive oil instead of sesame oil. Add 1 tbsp soaked arame seaweed for extra minerals. For some cheeky, witty and smooth sexy music to cook to check out www.edwinablush.com. Her song about composting is a must listen.